<![if !vml]>

<![endif]>
The Newsletter of the Napleton Fleet Group
Editor: Rick Nicoletti
January 7, 2013

In This Issue:
It's Auto Show Time!
Siri in Your Car
Los Angeles Auto Show
December begins the Auto Show circuit. It starts in Los Angeles, moves east to Detroit (International Auto Show) in mid-January and then Chicago in early February. All these shows have become the place to show not only concepts but also new vehicles that will be released immediately or in the very near future.
The Los Angeles Auto Show had a high number of new vehicle announcements. Although I'd love to take time showing you photos of the new Porsche Cayman, Dodge Charger Daytona or the new Jaguar F-Type, it makes more sense for me to concentrate on the vehicles that impact our fleet buyers. So here are a few new vehicles that might fit in your fleet in the very near future.
Mazda made waves at the 2012 LA Auto Show by announcing the 2014 Mazda6 sedan will be available with a 2.2-liter clean-diesel engine under its hood in North America. The Skyactiv-D engine will show up on the option sheet after the Mazda6 sedan goes on sale in January with its 2.5-liter gasoline four-cylinder engine. The move makes Mazda the first Japanese manufacturer to offer a diesel engine in the mid-sized segment in the US (the Volkswagen Passat also offers one), and the company says the Skyactiv-D-powered Mazda6 will also benefit from the manufacturer's brake energy regeneration system, i-Eloop.
___________________________________
Ram Truck is launching a new division - Ram Commercial Truck Division - to focus on commercial truck development, sales and support in a growing market. Embodied by the Tradesman trim level available on all models, the new Ram Commercial organization offers a full line of industrial-strength trucks and vans.

The new Ram Commercial division integrates a growing network of Ram BusinessLink dealers focused on the needs of commercial customers. Ram Commercial also will help offset the cost of doing business with On The Job incentives, specifically designed to lower the expense of commercial upfits. Both programs address professional needs for every job.

Timing of Ram Commercial launch aligns with the upcoming launch of the all-new Ram ProMaster and positive commercial demand. With the entire auto industry growing by two million units year over year in 2012, and further growth expected in 2013, commercial business will be key as it represents about one quarter of the total volume.
The major addition to the Ram lineup will be the Ram ProMaster. Ram Commercial is tapping into Fiat Professional, one of the largest producers of commercial vehicles in the entire world, offering more than 110 years of experience. That knowledge will help Ram enter new segments and expand the product line. Based on the Fiat Ducato, the Ram ProMaster fullsize van will be transformed for the North American market and offered by Ram Commercial with best-in-class attributes. Now in its third generation with more than four million sold worldwide, this van is a proven, award-winning workhorse with titles in efficiency.
<![if !vml]>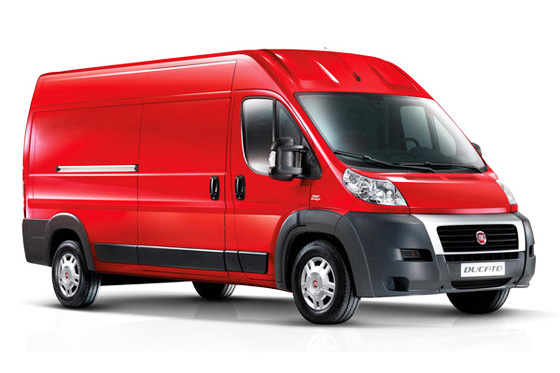 <![endif]>
The 1.0-liter EcoBoost engine took the majority of 2014 Fiesta-related headlines, but that doesn't mean the rest of the range was left untouched. Styling has been updated, most notably up front, where a new fascia brings the hatch in line with the well-received Fusion. There will also be a new palette of colors and graphics for owners to personalize. Inside,Ford has equipped the 2014 Fiesta with new technology bits that include MyFord Touch with a 6.5-inch screen to go along with Sync with AppLink, including Bluetooth and a suite of smartphone apps. MyKey also appears in the Fiesta for 2014. In addition to the 1.0 three-cyinder and the ST's 1.6 EcoBoost engines, the Fiesta will continue to be offered with the naturally aspirated 1.6-liter four-cylinder engine with 120 horsepower and 112 pound-feet of torque, mated to either a five-speed manual or six-speed PowerShift automatic.
<![if !vml]>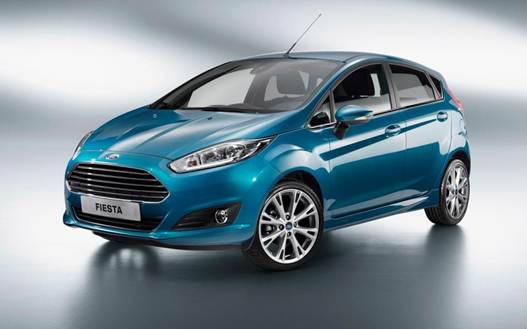 <![endif]>
Ford showed 5 and 7 passenger versions of the 2014 Ford Transit Connect Wagon. The wagon displays the familiar Ford front fascia. Ford is anticipating up to 30 mpg highway when buyers choose the 1.6 liter. The other powerplant choice is a 2.5-liter four-cylinder, both connected to a six-speed automatic transmission. Smaller families can go with the five-seater version, while the seven-seater will be available on a longer wheelbase for larger families. Trims are XL, XLT and the familiar Titanium, all of them boasting sliding side doors, fold-flat second and third rows and payload capacities beyond 1,200 pounds. There are two rear-entry options to boot, either a rear liftgate or side-hinged cargo doors.
<![if !vml]>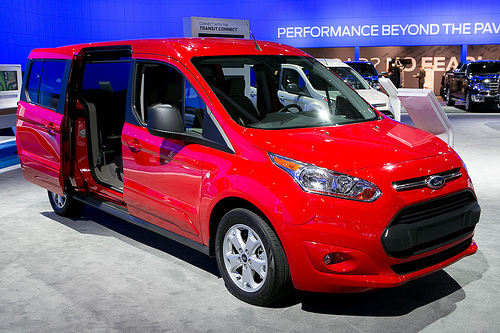 <![endif]>
Siri in Your Car
Get ready for Siri in your car. Early in 2013, Chevrolet will be the first automaker to roll out Apple's Eyes Free technology, showing up initially in the Spark (in 1LT and 2LT trims) and Sonic (in LTZ and RS versions). Both models also come with six months of OnStar service included for free, which also includes a smartphone app - available for Android, iOS or Blackberry.
Here's what Siri in your Chevy Spark or Sonic can do:
<![if !supportLists]>1. <![endif]>Make voice-activated, hands-free calls to contacts on your iPhone
<![if !supportLists]>2. <![endif]>Play songs in the iTunes library, and even switch music sources automatically from AM/FM/XM radio to iPod mode
<![if !supportLists]>3. <![endif]>Listen to, compose and send an iMessage or text message to a phone number or anyone in saved Contacts
<![if !supportLists]>4. <![endif]>Access Calendar and add appointments
<![if !supportLists]>5. <![endif]>Minimize distraction by keeping the screen of the iPhone from lighting up, even when Siri answers simple questions, such as game scores or the dates of national holidays
<![if !supportLists]>6. <![endif]>While in Eyes Free mode, Siri will not provide answers to complex questions that require displaying a web page.
Fleeting Tidbits
General Motors will introduce all-new 2014 Chevrolet Silverado and GMC Sierra pickups in the late Spring/early Summer. Although information about the 2014 Chevrolet Silverado and GMC Sierra has been released the official showing will be at next week's Detroit International Auto Show. Look for staggered Final Fleet Order Dates for the 2013 models. In fact, we already have certain models listed on our Final Fleet Order Date webpage.
Just a reminder - our Final Fleet Order Date page is updated weekly with the latest information. We're reaching that time of year where the manufacturers have begun releasing final order dates for many models. Bookmark our page for the latest information.
Taillights
If you're a classic car lover, the internet is a treasure trove of websites devoted to every make and model of vehicle. One of my favorites is a site called petrolious.com (I love that name). It's a very visual site. The photos and videos are done extremely well. It's difficult to describe exactly what they cover. It varies from car colors (they call it Color Inspiration), to advertising (check out the old Karmann Ghia ads), to style - give it a look when you have a few minutes. I think that you'll find it interesting.
Style Inspiration: Twiggy
<![if !vml]>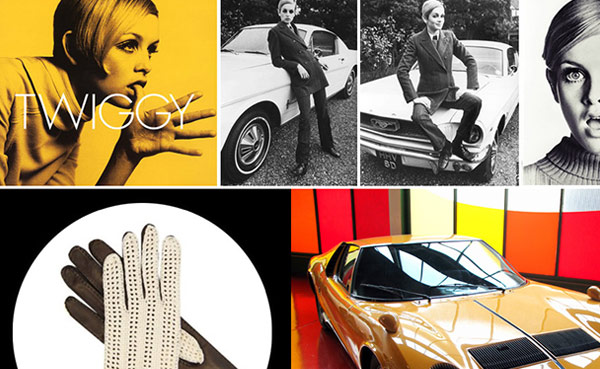 <![endif]>
Napleton Fleet Group 1 E. Oak Hill Drive Suite 100 Westmont, IL 60559
630.530.0250
www.napletonfleet.com