<![if !vml]>

<![endif]>
The Newsletter of the Napleton Fleet Group
Editor: Rick Nicoletti
July 30, 2012

In This Issue:
<![if !supportLists]>· <![endif]>2013 Mid-Size SUV's
The New Utes
The mid-size Sport Utility Vehicle segment is one of the fastest growing automotive segments. The vehicle manufacturers are all paying great attention to this segment with all-new vehicles that offer features normally associated with larger vehicles and fuel economy numbers unheard of just a few years ago. Here's a quick look at a few of the new 2013 models.
2013 Ford Escape
The Ford Escape, America's best-selling SUV, raises the bar even higher with the all-new model that includes 11 new exclusive features and fuel economy projected to top any vehicle of its kind on the market today.
Sixty percent of Americans shopping for a vehicle this year will look at either a midsize car or small SUV, making Escape part of one of the most cross-shopped and fastest-growing segments in the auto industry.
In addition to more cargo volume behind the first and second rows than the current vehicle, the new Escape delivers:
<![if !supportLists]>§ <![endif]>11 features no other small SUV offers
<![if !supportLists]>§ <![endif]>Clever technologies that make Escape even more versatile, including an available hands-free power liftgate that allows quick and easy access to cargo with the kick of a foot
<![if !supportLists]>§ <![endif]>Projected best fuel economy of any compact SUV Driving dynamics that make the drive experience more engaging on-road and a new Ford Intelligent 4WD System that provides even better traction off-road
<![if !supportLists]>§ <![endif]>Sleek new design, with better interior materials and more finishing touches
Escape offers Ford's broadest nameplate range of EcoBoost engine choices yet. Strong fuel economy comes from either the available 2.0-liter EcoBoost engine or 1.6-liter EcoBoost engine, which makes its American debut in the new Escape.
Both new engines combine EcoBoost's core technologies of direct fuel injection and turbocharging and add twin independent variable camshaft timing (Ti-VCT) to deliver even better miles per gallon and save customers money on fuel. The 2.0-liter offers 240 horsepower and 270 lb.-ft. of torque, while the 1.6-liter provides 178 horsepower and 184 lb.-ft. of torque.
In Escape, EcoBoost engines are mated to a specially calibrated, six-speed SelectShift Automatic transmissions, which is standard and allow drivers who want more hands-on experiences to manually control gear selection from a switch on the left-hand side of the shifter.
The gearbox features a new torque converter for improved driving feel, silky smooth shifts and even better fuel economy. Engineers also installed revised gear ratios for a balanced driving feel in all situations.
The standard engine in North America is an updated 2.5-liter (with 168 horsepower and 170 lb.-ft. of torque), giving the new Escape a comprehensive lineup of four-cylinder offerings. It also is matched to a six-speed SelectShift Automatic transmission.
2013 Hyundai Santa Fe
<![if !vml]>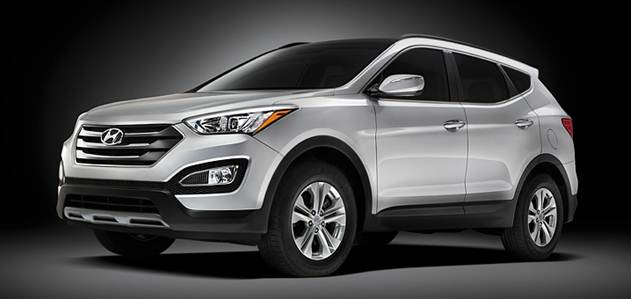 <![endif]>
The all-new 2013 Hyundai Santa Fe Sport will debut in August with the 5 passenger model. Later this calendar year a 7 passenger model will become available. The new Santa Fe will continue Hyundai's signature Fluidic Sculpture design language to create a substantial road presence. Dynamic side character lines add an aerodynamic flow while design elements and chrome accents on the grille and door handles create a distinctly premium feeling.

<![if !supportLineBreakNewLine]>
<![endif]>
<![if !vml]>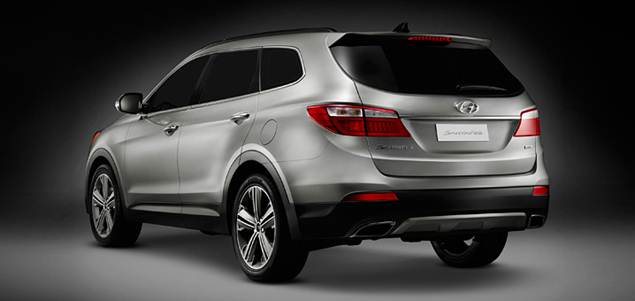 <![endif]>
The all-new Santa Fe will be offered in two wheelbase versions. The sporty 5-passenger Santa Fe Sport arrives first. In the near future, Hyundai introduce an extended-wheelbase Santa Fe that features seating for 7.
<![if !vml]>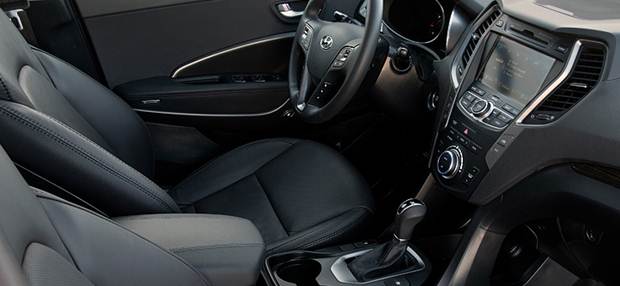 <![endif]>
The Santa Fe will offer three engine choices all mated to a six speed automatic transmission.
<![if !supportLists]>§ <![endif]>Standard on the Santa Fe Sport, is the 2.4L 4-cylinder engine with Dual Continuously Variable Valve Timing (D-CVVT) allows each engine intake and exhaust valve to be controlled independently, minimizing emissions and offering substantial gains in power. Paired with Gasoline Direct Injection (GDI), they create optimal air intake and enhance efficiency.
<![if !supportLists]>§ <![endif]>The available 2.0L GDI 4-cylinder engine features a twin-scroll turbo that pumps out plenty of horsepower and torque on demand while delivering impressive fuel economy. Its highly advanced design helps improve combustion efficiency, and provide low-engine-speed efficiency.
<![if !supportLists]>§ <![endif]>Feeling right at home as the standard engine in the extended-wheelbase 6 or 7-passenger Santa Fe, the 3.3L V6 provides potent response. It creates an effortless flow of power and surprising fuel efficiency using advancements that include GDI and D-CVVT.
The 2013 Hyundai Santa Fe will be built at Hyundai's assembly plant in west Point, GA.
2013 Jeep Liberty
What we know:
Production of the 2012 Jeep Liberty ends in August at the Jeep assembly plant in Toledo, OH. The plant will then close and undergo retooling for production of the all-new vehicle.
What we've read on the Internet:
<![if !supportLists]>· <![endif]>Maybe the new vehicle won't be called Liberty; there are some reports that the name "Cherokee" will make a return engagement.
<![if !supportLists]>· <![endif]>It will probably be built on the same Fiat-based platform used for the Dodge Dart – referred to as CUSW (Compact U.S. Wide).
<![if !supportLists]>· <![endif]>Production will probably begin in late fall/early winter with an unveiling at the Detroit Auto Show in December.
<![if !supportLists]>· <![endif]>There are rumors about a 3.2 Liter Pentastar V6 being available in the Liberty replacement; also a 9 speed automatic transmission.
<![if !supportLists]>· <![endif]>The all-new Liberty will be available in FWD and AWD. I'm sure that like all Jeep vehicles, there will be a Trail Rated version.
No photos yet. As soon as we discover some, we'll update Hot Flashes.
Fleeting Tidbits
We have Ram Cargo Vans in stock at our dealership in the Chicago area. If you need one out of stock, give our Truck Manager, Bob Barr a call at 630.455.2911 or email Bob at rbarr@napletonfleet.com
Ford will offer optional Automatic Stop Start technology on the 2013 Ford Fusion SE with the 1.6 Liter 4 Cylinder EcoBoost engine. Option 47B will be $295 MSRP; $273 Dealer Invoice.
Final Fleet Order Date for the 2012 Chevrolet Malibu is Thursday, August 2, 2012, with a planned final buildout of October 12, 2012. Based on current available build weeks - most of the production available is in September and October - expect longer OTD at this point.
IMPORTANT ORDERING INFO
Models eliminated – 1LS – 3LT – LTZ (1LZ & 2LZ)
No V6 Engine – LY7
Tires – QAD or QGQ
Body Side Moldings are REQUIRED 100%
KV1 (110V outlet) STANDARD on LT's
Remaining Exterior Colors:
17U Silver Ice Metallic
50U Summit White
GGW Taupe Gray Metallic
58U Black Granite Metallic (extra cost
98U White Diamond Tricoat (extra cost)
GBE Crystal Red Tintcoat (extra cost)
The Chrysler 300 and Jeep Grand Cherokee Win AutoPacific '2012 Best in Class Vehicle Satisfaction' Awards. The AutoPacific Vehicle Satisfaction Awards are based solely on owners' satisfaction ratings of their new vehicle. Respondents to this survey are owners of new 2012 model year cars and trucks purchased from September through December 2011. The winners of these awards perform well in 48 separate categories that measure the ownership experience.
Taillights
Designers from BASF Automotive Coatings have announced the results of its latest automotive color trend report. In the report, BASF color experts from North America, South America, Europe and Asia provide a forecast of the automotive colors of the future.

Results from this year's report show future colors will be "naturally cultivated" with nuanced berry and copper tones, along with natural colors such as brown, blue and green.
<![if !vml]>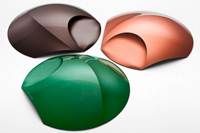 <![endif]>

"Although popular staple colors such as silver, black and white make up approximately 50 to 80 percent of current production, there is a rich diversity of potential shades that is returning to the market," said Paul Czornij, Technical Manager for the BASF Color Excellence group. "The increasing inclination of society to celebrate beauty in earth tones and more traditional green and blue hues is the basis for this trend."

In recent years, the color green has not played much a role on the roads, yet in four to five years, the color is predicted to become more popular. Similarly, white, silver, and gray will gradually wane in popularity at the expense of more saturated colors like blues and browns.

"There are signs from automakers and consumers that the desire for more color on the roads is continuing. We will be tapping into further color spaces, such as bronzes and emeralds," says Mark Gutjahr, Head of Design for BASF in Europe. "The continued high value assigned to the notion of ecology may now again be signified by the color green."

New diversity
The topic of sustainability continues to be on the radar, attracting attention to not only the environment, but also the everyday world. Finding novel ways to use materials, simplify lifestyles and have a closer focus on daily experiences are the main inspirations for this trend.

"The innovation that arises from this mindset nurtures a stronger awareness for things great and small, which in turn raises social responsibility," said Czornij. "Colors are being developed that evoke this sense of purpose, stretching the aforementioned blue, green and browns into both strong and subtle tones."

Materials that can be experienced
Modern communication technologies are triggering huge changes. Setting the tone are phenomena such as the increasing "dematerialization" of technology. In the future, technology will be less tangible in a haptic sense, and instead will be increasingly more intuitive. For example, smart phones use a touch display instead of a keypad.

"We are observing new narrative and haptic qualities in many areas. Heavy substances, striking surfaces and expressive materials such as wood and stone create a stronger emotional connection to the world we live in. In the automotive world, this means that we can expect more intensive colors and bolder effects," said Corinna Sy, Designer at BASF Coatings Europe. "The new colors are expressive, but not blatant, like a good story."

With dark berries, intensive browns and coppers, along with radiant emeralds, BASF designers anticipate powerful color experiences on the roads.

Global team - China
Carmakers are working and thinking globally. For this reason, BASF's design team has a global presence, sounding out international trends without ignoring regional features or color trends. In order to acknowledge the increasing significance of the Chinese automotive industry, and specifically the local manufacturers, the designers have included special colors, such as various shades of gold, in their trend collection.

The colors developed for China demonstrate the ability of BASF's Design Team to utilize its colorant tools and paint technology to span the range of bold blues to elegant browns, golds and grays. This reflects to the local market and its evolution to more interest in colors as an expression of self. The vivid hues support these trends and are balanced with metallic effects that bring increased prominence to this growing segment.
Napleton Fleet Group 1 E. Oak Hill Drive Suite 100 Westmont, IL 60559
630.530.0250
www.napletonfleet.com